Introduction
Drama at Tabor is a successful subject at Key Stages Three and Four and from September 2021 we will be delivering A-Level Drama and Theatre at key stage five. Throughout all years the expectations in Drama are high and challenges are set for students to reach the best possible quality of work.
Tabor Academy aims to provide a positive Drama experience for every pupil at KS3 and for students who decide to study Drama at KS4 and 5. We pride our department on giving students opportunities in technical routes alongside the performance aspect. The drama department are passionate to ensure students' knowledge is embedded with foundations based on the theories of dramatists around the world. We are eager for our students to leave the department having a new-found confidence in their own abilities to use drama across the school in other subjects.
Aims
We Provide a wide curriculum which challenges pupils as well as providing an environment where pupils learn through their experiences and errors. We set out to make these experiences as interesting as possible where learning becomes fun! We make sure that pupils of all academic levels contribute where they can and to the best of their ability. Pupils of all abilities thrive in the practical curriculum and generally do well at all levels.
Students are encouraged by staff to build on their skills and to follow their own progress through a peer and self-assessment system. Progress is recorded and students' work regularly reviewed and assessed by teachers.
Students are also encouraged to take themselves beyond set targets based on assessments completed in lessons. This might be through evaluative assessment done in the classroom or through the data assessment entries made throughout the year where pupils' progress is regularly monitored.
Each pupil interacts with others and the teacher through educational practical workshops. These workshops are made up of the following:
Games to stimulate the controls and sense of rules.
Warm-ups which link with the main learning objectives and unit of work being studied on the current schemes.
A unit of work based around a given theme or specific performance skills.
Assessment of work through constant peer, self and teacher assessment against national grades.
The study of different theorists and how they have influenced drama over time and to the present day, which are embedded into the learning and understanding of skills being used.
All students are invited to take part in Performing Arts Evenings and Preview Evenings displaying prepared examination work to Parents, Teachers and Governors.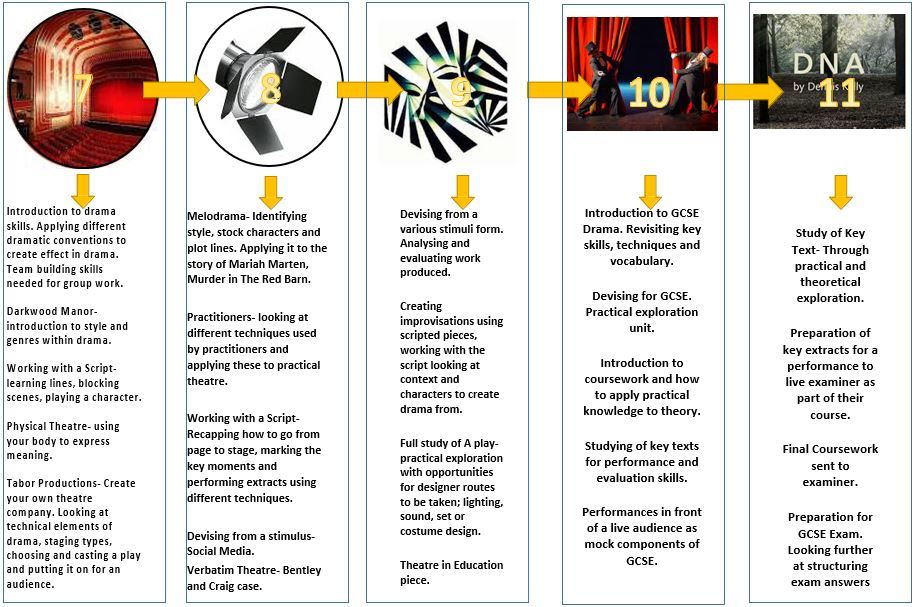 KS3
Throughout KS3 Drama pupils work on developing basic performance skills and look at different techniques and elements of drama. Once these skills are developed, Drama can be a world of imagination and adventure. We would like all pupils to enjoy drama as a creative subject but for some students to use drama as a tool for life skills to take forward with them in all aspects of school and work life.
Drama at Tabor allows students to explore an imagined world something that really pushes their personal boundaries, in a fun, engaging manner. They learn new skills such as using masks, using props, creating costumes, building scenery and set, lighting and sound design. Students will devise their own drama performances around the new skills obtained.
Pupils will work in groups on small projects and gain their inspiration from watching different styles introduced by their teacher, or work used in the theatre or from other gained experiences. They will be inspired by different stimuli, such as poetry, photographs, songs, sound effects to name a few. They will be strongly encouraged in all years to experiment with ideas and combine different elements together, with the guidance of their teacher and peers to create pieces they will be proud to call their own.
Aims: To enable each student to:
Respond creatively to a variety of stimuli and the use of drama techniques, as well as being introduced to the concepts of Drama Practitioners as a foundation for KS4 and KS5.
Develop imagination, sensitivity and self-confidence.
Encourage personal and group creative expression, communication and co-operation.
Act out improvised and scripted dramas regularly.
Discuss and evaluate finished work using correct terminology, develop a common vocabulary for drama which can be carried through all key stages.
To develop tolerance and empathy towards viewpoints which differ from his/her own.
Year 7:
Basic practical skills and the introduction of performance in an improvisational setting, the learning of dramatic terminology.
The development of personal language and building of character and confidence.
Learning about themselves and their environment through their experiences.
Students' will develop a sense of the areas for written work around the format used at GCSE.
Year 8:
Develop further understanding of how to use performance skills worked on in year 7.
Approach drama performances using different forms of drama such as physical theatre, monologues and duologues.
Delve into topics such as stereotyping and verbatim theatre.
Scripted work and putting pieces together with influences from different practitioners.
Year 9: The overall aim and objective for students in year 9 is to build up further and showcase the skills learnt in year 7 and 8. Skills and topics looked at will require a deeper maturity and understanding of the world around them. Year 9 is for students to express themselves by using fun, relatable texts and explore playwrights such as John Godber and Willy Russell. Students in year 9 will also complete mock versions of GCSE components to help prepare those who wish to take the subject as a GCSE examination.
KS4
Examination Level: GCSE
Examination Group: EDEXCEL
Examination Value: 40%
Controlled Assessment: 60%
Examination Structure: The examination is divided into three units of work.
For the GCSE, students must take all three units.
Component 1: Devising (Component code: 1DR0/01)
Coursework: 40% of the qualification – 60 marks
Content overview
Create and develop a devised piece from stimulus (free choice for centre
Performance of this devised piece or design realisation for this performance
Analyse and evaluate the devising process and performance
Performer or designer routes available.
Assessment overview
AO1, AO2 and AO4 are assessed
Internally assessed and externally moderated
There are two parts to the assessment:

A portfolio covering the creating and developing process and analysis and evaluation of this process (45 marks, assessing AO1 and AO4). The portfolio submission recommendations are:

can be handwritten/typed evidence between 1500–2000 words
can be recorded/verbal evidence between 8–10 minutes
an be a combination of handwritten/typed evidence (between 750–1000 words) and recorded/verbal evidence (between 4–5 minutes)

A devised performance/design realisation (15 marks, assessing AO2).
Component 2: Performance from Text
Performance to a live examiner: 20% of the qualification – 48 marks (externally assessed)
Content overview
Students will either perform in and/or design for two key extracts from a performance text
Centre choice of performance text
Performer or designer routes available. Assessment overview
AO2 is assessed
Externally assessed by visiting examiner
Centres are free to cover the performance/designing of the two key extracts in any way. This freedom caters for centres with different cohort sizes and allows them to choose
Component 3: Theatre Makers in Practice
Written examination: 1 hour 45 minutes: 40% of the qualification – 60 marks
Content overview
Practical exploration and study of one complete performance text
Choice of eight performance texts
Live theatre evaluation – free choice of production. Assessment overview
Section A: Bringing Texts to Life
45 marks, assessing AO3
This section consists of one question broken into five parts (short and extended responses) based on an unseen extract from the chosen performance text
Performance texts are not allowed in the examination as the extracts will be provided.
Section B: Live Theatre Evaluation
15 marks, assessing AO4.
This section consists of two questions requiring students to analyse and evaluate a live theatre performance they have seen
Students are allowed to bring in theatre evaluation notes of up to a maximum of 500 words.
Students Study:
Students must develop a practical and theoretical knowledge and understanding of characteristics of performance text(s) and dramatic work(s), including:
genre
structure
character
form and style
language
stage directions
Social, historical and cultural contexts including the theatrical conventions of the period in which the performance texts were created
How meaning is interpreted and communicated through:
performance conventions
use of performance space and spatial relationships on stage
relationships between performers and audience
the design of: set (including props), costume, lighting and sound
actor's vocal and physical interpretation of character
the drama and theatre terminology used by theatre makers and how to
use it appropriately
GCSE Results 2021
Congratulations to the Year 11 students on achieving 90% grade 9 to 4
Extra- Curricular
There is a highly attended Drama club on a weekly basis which is run by the Head of department. This had provided students to gain further knowledge and practice on the skills learnt in drama. Students in the drama club have also put on many performances; the latest being We Will Rock You, which was outstanding!
Pathways after Year 11
Pathways after Year 11
A Level Drama Theatre Studies (Tabor Academy Sixth Form):
This course reflects and progresses on from the GCSE course and being with the same exam board is a natural progression from one course to another. The A Level goes on to look a little deeper into the theories and practical processes. It develops a deeper understanding where students' acting, and technical skills are challenged further leading to university and further education specialists.
KS5.
Examination Level: A-Level
Examination Group: AQA
Examination Value: 40%
Controlled Assessment: 60%
Examination Structure: The examination is divided into three units of work.
For the A-level, students must take all three units.
Component 1: Drama and Theatre
• Written exam: 3 hours
• Open book
• 80 marks
•40% of A-level
Content overview
• Knowledge and understanding of drama and theatre
• Study of two set plays, one chosen from List A, one chosen from List B
• Analysis and evaluation of the work of live theatre makers
Assessment overview
• Section A: one question (from a choice) on one of the set plays from List A (25 marks)
• Section B: one three part question on a given extract from one of the set plays from List B (30 marks)
• Section C: one question (from a choice) on the work of theatre makers in a single live theatre production (25 marks)
Component 2: Creating original drama (Practical)
• Working notebook (40 marks)
• Devised performance (20 marks)
• 60 marks in total
• 30% of A-level
This component is marked by teachers and moderated by AQA.
Content overview
• Process of creating devised drama
• Performance of devised drama (students may contribute as performer, designer or director).
• Devised piece must be influenced by the work and methodologies of one prescribed practitioner
Component 3: Making Theatre (Practical)
• Performance of Extract 3 (40 marks)
• Reflective report (20 marks)
• 60 marks in total
• 30% of A-level
Completely marked by AQA.
Content overview
• Practical exploration and interpretation of three extracts (Extract 1, 2 and 3) each taken from a different play.
• Methodology of a prescribed practitioner must be applied to Extract 3.
• Extract 3 is to be performed as a final assessed piece.
(students may contribute as performer, designer or director)
• Reflective report analysing and evaluating theatrical interpretation of all three extracts.
Students can progress from this qualification to:
● Drama schools, university courses that relate directly to drama and theatre
● University courses that will benefit from the skills acquired from this GCE, for example law,
human resources, people management
● Employment where people skills are essential, for example management, retail, nursing,
industry and business environments
● Employment where time management, confidence, the ability to work collaboratively and to meet deadlines are desirable.
University and Acting College:
There are University courses that focus on Drama and the theories of Drama and world-renowned dramatists. There are educational courses that combine the art of the actor with the knowledge of a teacher and taking Drama into different sectors of Education. Ultimately there are specific acting colleges, not just in London, but all over the UK that focus on becoming an actor. However, there are over 5000 jobs in the entertainment industry from Theatre to television to Film, where the very grounding for all starts with GCSE Drama.