Business
Introduction
The Business department in Tabor believe that through hard work, focused learning and serious academic application students will be able achieve well in a highly sought after list of qualifications. Students in any field of business or economics can go on to work in the world of business, finance or accounts.
This course is ideal for those interested in learning more about business structures in the contemporary marketplace. A Level Business Studies provides an overview of modern business models, major topical issues and stakeholder perspectives and through it you will learn how to evaluate both the internal structures and the dynamic external environment operating on a business.
What is the course about?
This A Level Business Studies course offers a comprehensive overview of business models, from planning and financing a small business, to human resources and management issues.
This course is designed to enable candidates to focus on the dynamic nature of the contemporary business world, provide opportunities for research into topical business issues, offer opportunities for the development and application of a full range of academic skills, explore real business situations, be practical in the application of business concepts and understand the role of the entrepreneur and business in society. The course is aimed at those seeking an A Level qualification in preparation for studying business at a higher level, as well as those who wish to develop their knowledge of business in general.
How is this course assessed?
AS Level
Unit 1: BUSS1 Planning and Financing a Business
Business start-up guide
How to finance small businesses
Examination: 1 hour 15 minutes
Unit 2: BUSS2 Concepts of Business Management
Financial management
Importance of Human Resources
Operations Management
Marketing and the Competitive environment
Examination: 1 hour 30 minutes
A2 Level
Unit 3: BUSS3 Strategies for Success
Functional Objectives and Strategies.
Financial Strategies and Accounts
Marketing Strategies
Operational Strategies
Human Resource Strategies
Examination: 1 hour 45 minutes
Unit 4: BUSS4 The Business Environment and Managing Change
Corporate Aims and Objectives
Assessing changes to the Business Environment
Change Management
Examination: 1 hour 45 minutes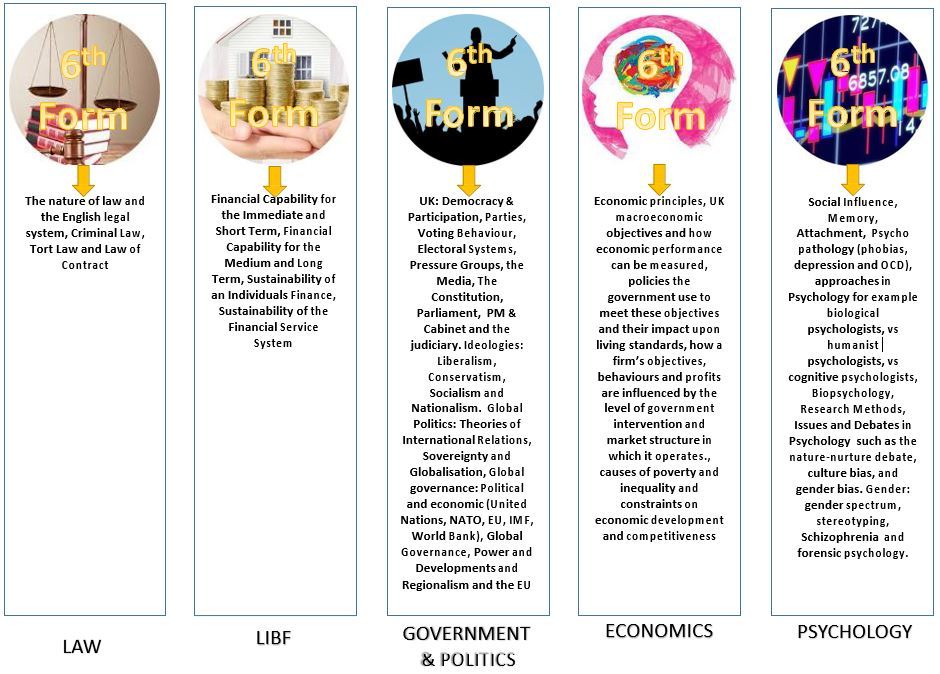 BTEC Level 3 extended diploma in Business
What is the course about?
The BTEC Level 3 Diploma is broadly equivalent to two/three GCE A Levels. The programme aims to provide students with an in depth understanding of the operations and structures of businesses and also to equip students with the skills required to succeed in employment or at university. The course will involve businesses in the public, private and voluntary sectors. Students should be aware that the course will take the entirety of their time at A-level and will be especially important for students that wish to progress with this subject at degree level.
Students will cover a range of topics that include:
Business Resources
Business Environment
Marketing
Business Communication
Business Accounting
Human Resources
International Business
Business Retail
Internet marketing
Starting a Small Business
Business Economics
Market Research
How is this course assessed?
You will be assessed continually through practical project work, coursework, written assignments, time constrained assignments and through giving presentations.
Please Note
Extended Diplomas are delivered as two one year programmes:
Year 1 - Subsidiary Diploma
Year 2 - Diploma/Extended Diploma
Students are expected to satisfactorily complete the Subsidiary programme prior to being considered appropriate for a year 2 qualification.
What can I do once I have completed the course?
Students that successfully complete their programme of study could progress onto a Business related degree or Higher National Diploma. Level three students frequently go directly into employment in areas of growth in finance, administration and management.
A Level Economics
What is the course about?
Economics is a broad term referring to the scientific study of human action, particularly as it relates to human choice and the utilization of scarce resources. Economic analysis often progresses through deductive processes, much like mathematical logic, where the implications of specific human activities are considered in a "means-ends" framework.

During the Advanced Level course you will be introduced to the underlying theories of Economics and expected to apply them to various real world situations. In addition to acquiring a sound knowledge and understanding of the subject matter, you also need to develop your powers of logical analysis and evaluation. Many economic problems present different possible solutions and you will need to weigh up the alternatives, form your own opinion and argue your case both in class and on paper. To be successful, you will have to read widely and keep abreast of current affairs. The statistical and data handling aspects of the work require a competent performance at GCSE Mathematics.
How is the course assessed/examined?
The Pearson Edexcel Level 3 Advanced GCE in Economics A is structured into four themes and consists of three externally examined papers. Students build knowledge and understanding of core economic models and concepts in Themes 1 and 2 and then build on this and apply their knowledge to more complex concepts and models in Themes 3 and 4. Students will need to apply their knowledge and understanding to both familiar and unfamiliar contexts in the assessments and demonstrate an awareness of current economic events and policies.
Theme 1: Introduction to markets and market failure. Theme 2: The UK economy - performance and policies. Theme 3: Business behaviour and the labour market. Theme 4: A global perspective.
PAPER 1
Markets and business behaviour *Paper code: 9EC0/01.
Externally assessed • Availability: May/June • First assessment: 2017
35% of the total qualification.
PAPER 2
The national and global economy *Paper code: 9EC0/02.
Externally assessed • Availability: May/June • First assessment: 2017
35% of the total qualification.
PAPER 3
Microeconomics and macroeconomics *Paper code: 9EC0/03.
Externally assessed • Availability: May/June • First assessment: 2017
30% of the total qualification.
What can I do once I've completed the course?
Naturally studying Economics at A-level lends itself to carrying on this course of study at degree level. However the wider benefits of studying economics students include an understanding of how the government works out problems with finance, employment and different worldwide issues. A student of economics will be able to relate real world scenarios of the past to the things that are taking place in the world today.