Media Studies
Introduction
The WJEC Eduqas specification offers learners the opportunity to develop a thorough and in depth understanding of these key issues, using a comprehensive theoretical framework and a variety of advanced theoretical approaches and theories to support critical exploration and reflection, analysis and debate.
They study of a wide range of rich and stimulating media products is central to the specification, offering opportunities for detailed analysis of how the media communicate meanings in a variety of forms. Learners will work from the product outwards to debate key critical questions related to the social, cultural, political and economic role of the media. Through studying media products holistically in relation to all areas of the theoretical framework, learners will engage with the dynamic relationships between media products, media industries and audiences. Learners will also consider established media forms alongside more contemporary forms, developing an awareness of emerging and evolving media.
Although the primary emphasis in this specification is on the contemporary media, learners will explore how the products relate to their wider historical contexts. Learners will also extend their experience of the media through the study of products with which they may be less familiar, including those produced by or for a minority group, non-mainstream and non-English language products. This specification aims to develop knowledge and understanding of the transnational nature of the media, considering the effect of different national contexts on representations in media products, the global reach of media industries, and the targeting of audiences on a national and global scale and global scale.
Specification link
Main website for A Level: https://www.eduqas.co.uk/qualifications/media-studies/as-a-level/
Course specification: https://www.eduqas.co.uk/qualifications/media-studies/as-a-level/Eduqas%20A-Level%20Media%20Studies%20Specification%20(From%202017).pdf?language_id=1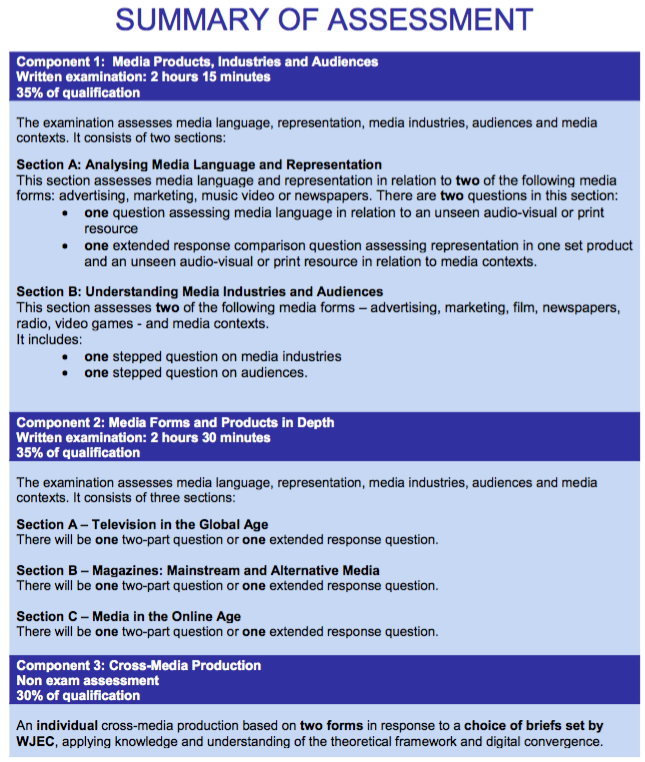 Why you should consider this course
Media studies does many things to further a student in their education. By looking at different products in great detail, students will build their analytical skills and develop their manner of reasoning and arguing different points when coming to evaluate different media products.
Those skills of written communication are excellent when applying for different roles that are people facing within many companies. This is a truly contemporary course that will offer a student the skills needed to make rational choices and come to sound conclusions when consuming future media products in a world full of fake news and information influenced by political agendas.
The hands on aspect of the course will see students making products that are often comparable to the elements they are studying and does give them real insight in to the way that the media can control so many different thoughts and opinions. This is a course that will lead students to make their own conclusions rather than be led by the agendas of others.
Future Career
Media
Multimedia specialist.
Programme researcher, broadcasting/film/video.
Public relations officer.
Runner, broadcasting/film/video.
Social media manager
Television/film/video producer.
Web content manager.